The
Bossy Girls
(Caitlin & Vili) are 2 of my fave stylists/make-up/hair etc. you name it, they do it.
I love them because not only do they have an eye for what's hot, they support Brazen Hussy whenever the opportunity arises. They try to promote and use Brazen Hussy items to style their projects as much as they can.
The most recent job they had involved them styling
Danny Fernandes'
new video FANTASY.
Caitlin called me from the set and told me that all 4 of the members of Girlicious, refused to wear any other line but Brazen. Awww....we were so flattered that we let them keep the stuff they wore in the video.
[In the photo from L-R: Natalie in dominatra skirt & Kendra cumberbund belt, Chrystina in CC strapless bandage dress, Nichole in the black tulip skirt and Tiffanie in the vanessa elastic dress.]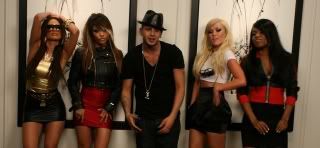 For more photos...click on the link to get to the Brazen Hussy Facebook fan page:
http://www.facebook.com/home.php?#/pages/Brazen-Hussy-Inc/17894161931?ref=ts
Watch the full video below.